Day 3 at the LAB and things are cooking! We began the day by taking a look round the 'Art Turning Left' exhibition at the Tate Liverpool, which is a real amalgam of protest art, political dogma, social science and general anti-establishment culture across the last couple of hundred years. A shame that it is billed at £7 or so to get in, thus preventing wider enjoyment and in contrast (contradiction, even) to the stance and subject matter of most of the exhibition content! There also seemed to be a tail-off in more recent exhibits considering that the interest period is 1789-2013. No matter, it was still an inspirational and mindful experience.
We congregated as a group round a table in one of the Tate offices to discuss some thoughts, mainly about the role of artist, community and the sometimes troublesome nature of the relationship between the two. Conversation did briefly get quite animated and perhaps still thinking of the Tate exhibition, it did seem that we were on the verge of hammering out some kind of radical manifesto for a brief moment! However, it was not to be as we parted company to develop ideas and perhaps the seed of a response to all the information we had received over the preceding 2.5 days.
I for one returned to Edge Hill and started to look at the difference between some of the surrounding streets where clearances have recently taken place and their portrayal on Google Maps, which still shows many areas as they were before demolition.
In the following screen grab, the streets between Dorothy Drive and Marmaduke Street have all been cleared although you would not know by looking at this map.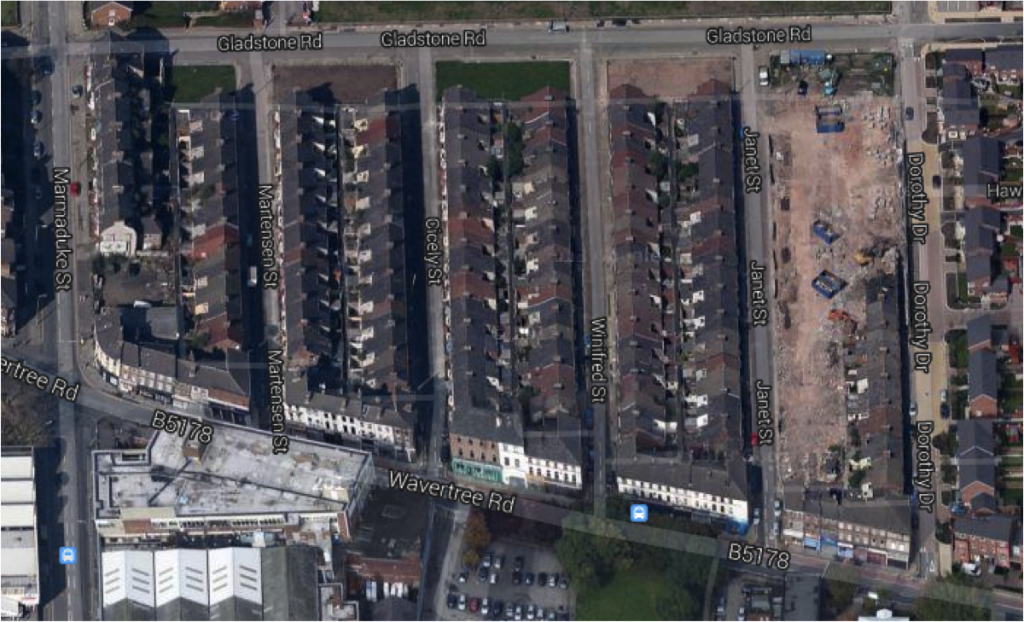 In fact all that remains are what Ian Brownbill calls 'sheep pens' – thinly grassed expanses of earth too soft to walk across easily or play games on – ie not much use to anyone. Here's an amalgam of what is shown of Martensen Street on Google Maps Street View and what's actually there. Actuality vs representation.