Electricus is dead, long live Electricus! Well not dead, just put to bed for now while I start to work on my next show 'Luminescence' to be exhibited at firstsite in April.
Putting on a show at Ipswich Town Hall was certainly a memorable experience. Although Gallery 3 feels slightly off the beaten track, it's such a hugely impressive room with enormous sash windows, ornate plasterwork not to mention several large 19th Century maritime-themed oil paintings hanging high, that one cannot help but feel slightly in awe. Luckily the 4 metre wide, 3 metre high back projection screen I had installed across one corner of the room was big enough to hold its own within the space.
The exhibition opened to a queue of people thanks to Sarah Jacques of University Campus Suffolk who brought her Fine Art undergraduates along to have  a look and 'show some energy'.  I gave an impromptu presentation which was fun 😉  Saturday was the busiest day thanks to a great feature by Wayne Savage which appeared in the East Anglian Daily Times and Ipswich Star newspapers on the previous day.
This was the first time I had worked with back rather than overhead projection and it really does make things much easier in terms of positioning, providing that the necessary space behind the screen is available. In general, the show was a definite success with lots of minor production lessons learned and quite a few in-depth conversations with visitors, which was really informative.
I've been working with outlines and sparks now for some time and will probably now take a slightly different route foward. I hope to post samples of some of the ideas I'm working on for Luminescence over the coming weeks.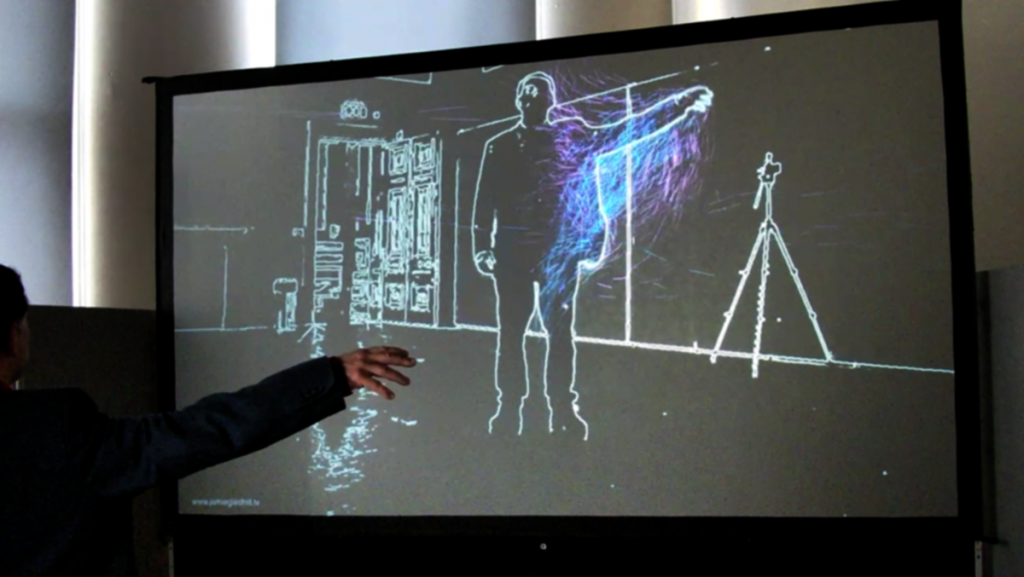 Electricus, Jamie Gledhill 2014